Dansk Stålmontage designs and produces process plants for the wastewater industry. Dansk Stålmontage produces everything for the complete wastewater system; combustion chambers, platforms, ducts, piping, scrubbers, cyclones, silos etc. Dansk Ståmontage is also responsible for the installation of the complete wastewater systems.
Dansk Stålmontage collaborates with AquaGreen on the manufacture and installation of all AquaGreen's complete wastewater systems. The plants have been developed with a new technology, where wastewater sludge, through a drying and pyrolysis process, is transformed into biochar in a sustainable ecosystem. The energy from the sewage sludge is used to operate the plant and ensures an environmentally friendly solution. The partnership between AquaGreen and Dansk Stålmontage is the perfect combination of new technology and heavy experience from the steel industry, and contributes to sustainable and environmentally friendly solutions for the wastewater industry.
Watch TV2 LORRY's news broadcast about the sustainable treatment plant that Dansk Stålmontage has produced and installed for AquaGreen for Odsherred Forsyning A / S. Watch the broadcast from TV2 LORRY – click here.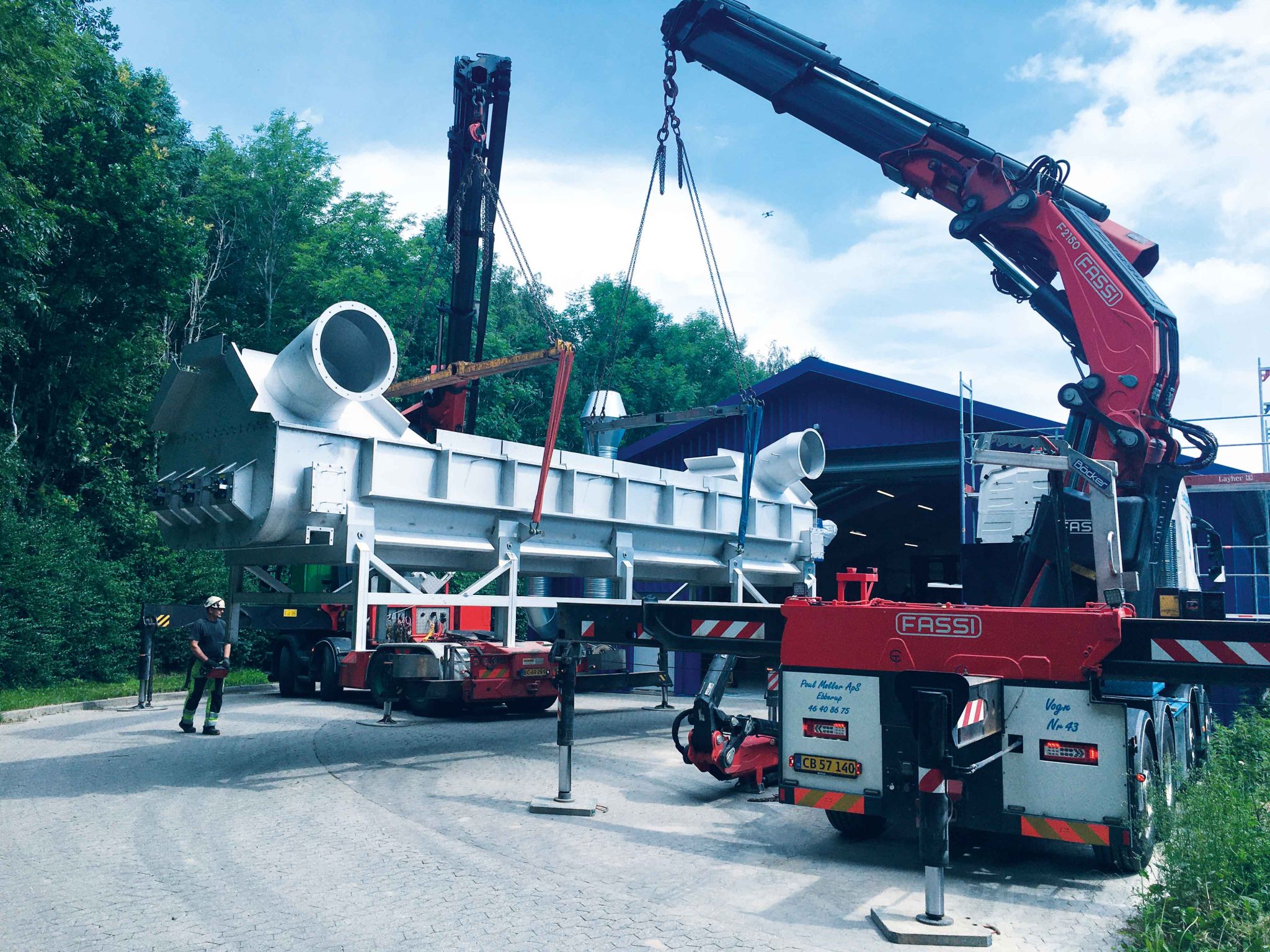 Installations of sewage system
Dansk Stålmontering handles installations of wastewater systems. The picture shows the installation of systems for AquaGreen for Odsherred Forsyning A / S.
It is important for us to have a close collaboration and good sparring with the supplier and utility company. To deliver a quality project that adheres to the schedule and production schedule set for the project.
Dansk Stålmontage manufactures silos in the highest quality from our skilled blacksmiths. The blacksmiths have several years of experience in the industry, which ensures the best solution for our customers. Our production has the capacity to produce all size silos, according to the needs and wishes of our customers.
The silos can be delivered with desired electronics, load cells, rear sensors for trucks, control distributor augers, axles and dampers.
If you have questions or want to hear more about our wastewater treatment plant, you are very welcome to contact us.