ALUMINIUM PLATFORM  – THE LIGHTWEIGHT SOLUTION
The Aluminium Platform is a suspended platform to facilitate quick and easy inspection and repairs inside tanks, bins, etc. The platform has a simple design and is made of aluminium, so it is a lightweight, easily manageable solution. Our solution can save time and money when the clock is ticking on operational stoppages. Moreover, this solution provides full access to the sides and the roof of the tank. You can read more about the DS Aluminium Platform below. You can also e-mail or phone us to find out more, or download our brochure. The Aluminium Platform is CE approved; EN 1808:2015.
OUR PLATFORM CAN BE RENTED OR BOUGTH DEPENDING ON YOUR NEEDS.
Contact Thomas Andkjær Carlsen: Tel. +45 24 29 24 58 or email: tac@dsmontage.dk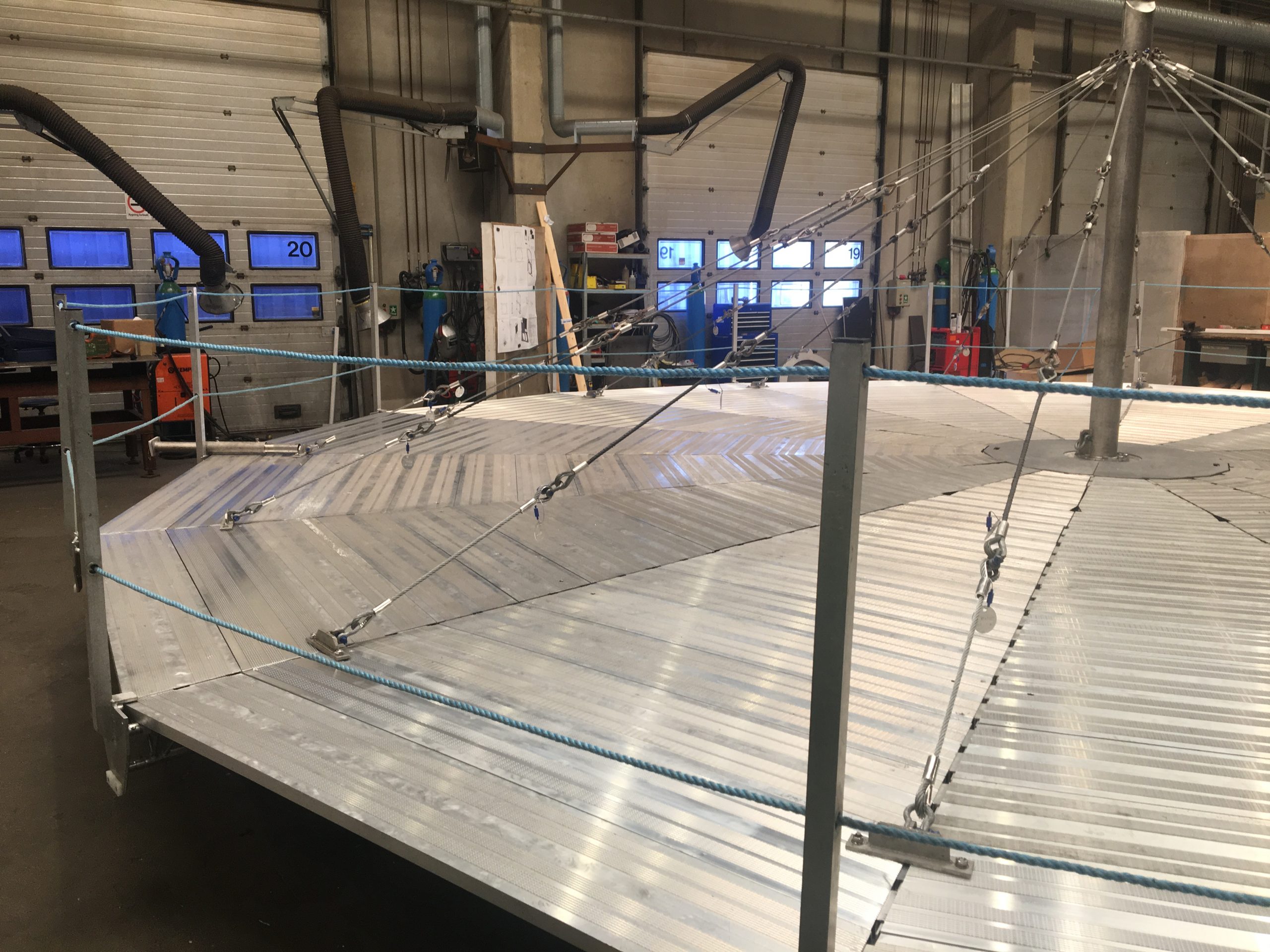 ALL DIMENSIONS – ALL REQUIREMENTS
The DS Aluminium Platform is used for the internal inspection, repair and maintenance of tanks, bins, cyclones, etc. In many cases, it can take the place of more conventional scaffolding, whilst offering a number of advantages compared to other solutions: We supply the platform tailored to very specific requirements to ensure a perfect match for each task. It is available as a flexible solution, so it can be set to various different diameters or fixed dimensions. From very small to very large dimensions. To suit your specific requirements.
Our platform saves your company time and money. Its individual components are small enough to fit through even small manholes. The light weight makes it quick and easy to work with. Its flexibility gives you complete access to the sides and roof. Our platform is in use at many locations worldwide, e.g. at Pfizer in Mexico, where it is used for cleaning and inspecting a GEA Niro spray-drying plant for everyday production of baby food. Pfizer decided to go for the DS Aluminium Platform after choosing a similar solution for one of their factories in Singapore. The platform enables Pfizer to minimise the operational stoppages that occur when it is time for cleaning and maintenance of the plant. This example shows that our solution can save companies both time and money.